Cheers to our very own Team Founder Libby Bruno being interviewed as an industry expert in the Nashville Business Journal, alongside Katie Morrell. Read the abbreviated article where these wonderful realtors share their insights on Nashville's booming market.
---
Nashville Business Journal:
Nashville Residential Real Estate Sales Soaring
Read the Full Article here
Nashville's strong population influx combined with fewer available properties continues to fuel a vibrant residential seller's market in early 2022, according to Compass Real Estate findings.
The 2020 onset of the global pandemic initially cooled the market and left many wondering how long it would take selling patterns to normalize and rebound. But activity since has regained momentum at a dizzying pace as buyers and sellers responded to new dynamics in the economic and social environment.
How much is too much?
As most Nashvillians will tell you, when it comes to chicken, there's no such thing as too hot. But in a boiling real estate market, concerns abound about when the bubble may burst. Those in the field say they are watching metrics closely.
Compass Affiliate Broker Libby Bruno has watched the Nashville market thrive and create a slow uptick of value for residents since 2007. Some argue that Nashville has already grown too fast and has lost its "quaint hometown" feel, she concedes. But when it comes to residential real estate, Bruno remains energized and optimistic.

"Given the current demand and the promised demand to come, it's going to be a long time before we see higher prices equal a loss on ROI or true overpayment on a home," she says. "When we start to see multiple-offer negotiations dwindle, the traffic of transients moving to Nashville slow down, and other cities rise to become a "hotter" ticket, then we'll need to pay attention and adjust pricing." However, Bruno says we're not there yet.

Libby Bruno, Nashville Business Journal Interview
Compass Affiliate Broker Katie Morrell says prospective buyers come from larger cities because they are attracted by the amenities Greater Nashville has to offer. These amenities include bedroom communities with good quality of life, relatively short commutes, top-notch dining and entertainment, superb medical resources, and the growth of sporting events and arts.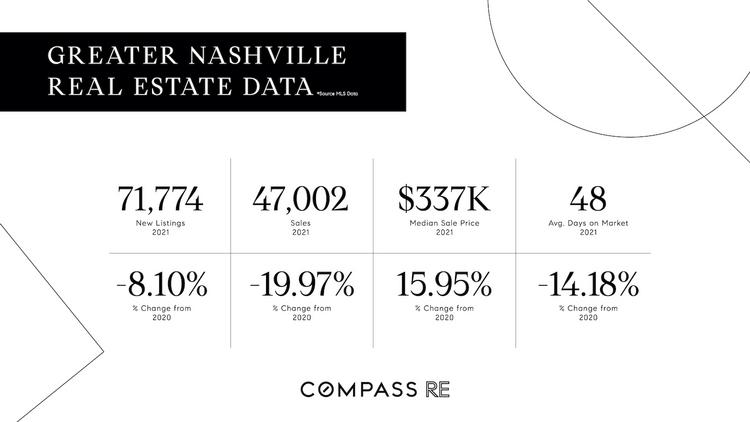 The art of the deal
Looking ahead, what do these trends mean for buyers and sellers? Morrell says to set themselves up for success, buyers should be prepared to write an offer over asking, with no appraisal contingency and a pass/fail inspection. "Look in a price range $50,000 less than your budget," she advises. "This will allow you to go over the asking price with your offer and also have enough cash to use for any appraisal delta."
Many agents say sellers are competing for bids by stipulating that buyers waive inspections or accept results on a pass/fail basis. In a tight market, buyers often have little recourse but to move forward and take on such risk.
With all the balls seemingly in their court, this market would seem to be a slam dunk for sellers. However, Bruno says many sellers are rushing to list without making their property purchase-ready, potentially leaving value on the table. With interest rates set to rise soon, many sellers are worried they'll miss their window.

"I tell sellers it's best to market smart, rather than market fast," she says. "A home will sell – but if you want top dollar you need to create a bidding war, and that means a stunning presentation with a far marketing reach."

Bruno recommends sellers work with a real estate professional who understands the power of eye-catching photography, eloquent imagery through written descriptions, and a thorough, meticulous marketing plan. If you don't, she says, "you'll never know how much more you may have been able to earn on the sale of your home."

Libby Bruno, Nashville Business Journal Interview